This is a call to action; get some. Don't have some? Get some. Need some? Get some. Want some? Get some. Wish you had some? Get some.
I realize not a whole lot of people have seen the second half of this movie
Jesus, what the hell am I even talking about? Some. All of some. I'm getting so goddamn frustrated with people simply accepting not having "some", whatever "some" is. Don't wallow and wait, don't theorize, don't wish and hope, don't complain, don't lament, just go get some!
Experience! Don't have some? Get some! Quit acting like you have some and go out and get some! Quit theorizing about what might work and go out and find out if it works! Quit recommending routines you've never tried from authors you never read who wrote books you never bought and trained people you never met. Go get some experience! If you think Sheiko knows what he is doing, go follow his routine for a year and see if it works. Think Super Squats looks good? Go run it and find out. Building the Monolith? Game on. Dogg Crapp? Hell yeah. HIT? We're doing this. GVT? It's on. And hey, if you don't want to get some, that's cool; just shut the hell up when talking to the people who ARE out there getting some. You might know all the academic reasons why 5/3/1 is an awful routine and won't ever work because it's MRV isn't properly configured when Mercury is in retrograde, which even the most junior level gym scientist KNOWS is true, but if all you have is theory when trying to refute the actual results of someone who ran the program, step down. Or go get some.
Hey, I'll give him credit; he at least gave it a try
Coaching! Don't have some? Get some! Hell, I don't even have a coach, but it's because I have no desire to have one. I enjoy figuring this out on my own and getting all that experience I was ranting about earlier. But man, if you WANT a coach, go get one. There are TONS out there these days. You can get in person instruction, or coached over skype, or send someone a video to critique, or have a pen pal, or etc etc. There are SO many avenues available that wishing you had a coach just makes no sense. It's right there. And hey, maybe your coach can help handle you at one of those competitions in one of those sports that you want to compete in, because rather than make that a whole separate paragraph, let me just say, want some competition? Get some!
Equipment! Don't have some? Get some! Geez, are you kidding me on this one? Do you even KNOW how lucky we are to have so many equipment manufacturers out there today? When I started training, your 3 options were Ironmind, NewYorkBarbells or Elitefts, so you basically had to decide between a $700 barbell, having your credit card information stolen, or supporting Dave Tate's poptart habit. If you wanted strongman equipment, you bought it off of myspace from Alan at Pitbull Strongman, and that wasn't sketchy at all. "Rogue" was an X-men character, and if you wanted a belt it was a 6 month wait with Inzer while they raised a baby calf to a cow to slaughter for leather. Now? Equipment is EVERYWHERE and everyone is having some sort of sale everyday. And if THAT'S not enough, you can always BUILD your own equipment. And don't try to tell me you can't; you're talking to the same lunatic that built a circus dumbbell out of 2 home depot buckets and a pipe nipple. I built a set of pipe farmers handles with hand tools and eyeballing. You don't need training or good tools to build equipment, in fact, I think the LESS training you have, the better, because you'll be too stupid to realize how crazy your idea is. The equipment is out there; don't wish for it, go get it!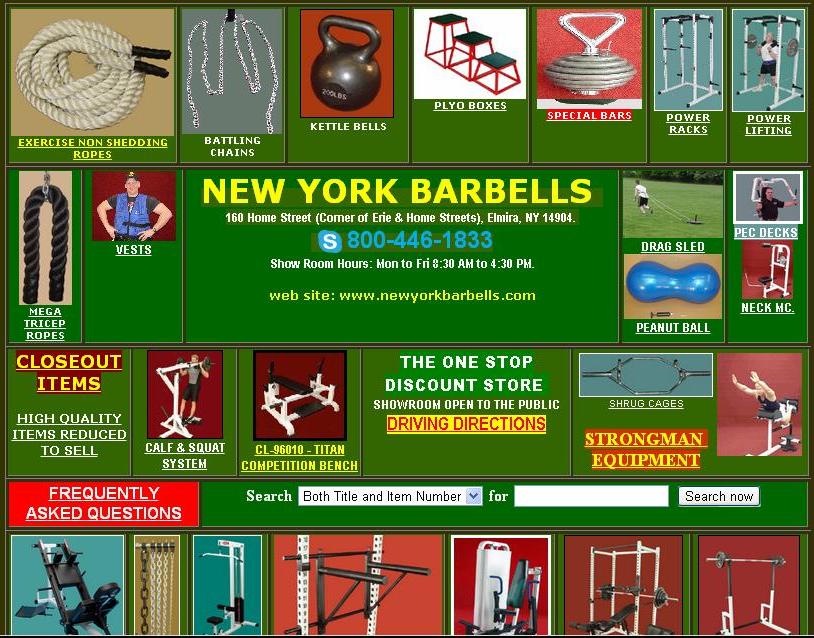 No, this ISN'T a photo of how the site looked back then; that's TODAY
Quit letting external variables control YOUR destiny. It's YOUR time, YOUR money, YOUR future. Don't justify your lack of experience by dutifully explaining how you don't need experience to know if something works; go get some experience so that you CAN in fact be a decent source of authority on a topic. Don't talk about how you could be the next champ too if only you could get some coaching; go get a coach! Don't talk about how you WISH your gym had a reverse hyper or a safety squat bar or a buffalo bar or whatever the latest and greatest gimmick is; go get one for you! And if it's money you need for all this, go get some of that too! Sell some stuff you don't need, quit buying some stuff you don't need, save up and invest in yourself. And if it's time you need, go get some of that! I find most people don't realize that there is a great little chunk of time between 0500 and 0600 just ripe for the taking EVERY DAY; you just have to lose an hour of sleep to get it.
Go out there and get some.